Accolades
A true mark of our dedication for results and excellence.
Accolades
A true mark of our dedication for results and excellence.
WINNER – Malaysia Website Awards 2015, Malaysia Tourism Award 2016 (malaysia.my)
(photo: Zachary Haris Ong with Malaysia.my representative, Syed Ismail and art director Arez Ezman.)
In January 2016, Zachary Haris Ong Associates' work Malaysia.my won the first ever Malaysia Web Awards 2015 in the highest rated website for design and development for the month of September 2015. The Malaysia Web Awards is a prestigious Website Awards program seeking to recognize and reward outstanding performance, talent and effort of the best web developers, web designers and web agencies in the country.
In February 2016, Malaysia.my won another award for Best Online Promotion in the prestigious Malaysia Tourism Awards 2016. The Malaysia Tourism Awards is the highest form of recognition by the Ministry of Tourism and Culture and Tourism Malaysia for industry players whose outstanding contributions have played a significant role in the success of Malaysia's tourism industry.
Zachary Haris Ong with Award Committee Member Mr. Zuraimi and Malaysia.my representative, Syed Ismail.
Workgroup 2015, International Council of Design
Certification and Professional Development Workgroup
Lead: Adrian Jean (Canada)
Having the skills and experience of a designer's work recognised and codified, much as other professions do, represents a major challenge to countries that are yet to put such certification systems in place. Thus the role of this WG has, in large part, been the transference and sharing of knowledge from established schemes to those countries seeking to establish their own frameworks, along with what steps must be followed in order to do so. Therefore an analysis is taking place that fleshes out the components of the various systems already in place, which will essentially serve up a menu of options on how to approach certifying the design profession. Moreover, a roadmap is being developed whereby the first steps that need to be established are identified (such as a code of ethics for example) before a true certification process can be built. This research will be viewable through a template that displays the attributes of each scheme, with the aim of providing optional pathways that can be followed, be it through seeking official government recognition of the profession, through self-governing professional association initiatives, or through other efforts to establish and enhance recognition of the design profession with other entities.
National Design Policy Workgroup
Lead: Rebecca Blake (USA)
Research has been undertaken to ascertain which countries officially adopt stand-alone national design policies and which nations have design policies as elements of broader growth, trade or economic strategy. The first step is to take a snap-shot of the current international landscape. Then, a more in depth analysis will take place into the specific elements of each countries design initiatives, identifying commonalities and highlighting individual countries particularisms. A first effort will be viewable through a matrix of countries design policies, which will serve as a discussion document in Gwangju. Experts in design policy formulation as well as major contributors to individual states' policies, have been contacted by the Secretariat and indicated a willingness to offer expert opinion and even contribute as guest contributors to our online meetings.
Communicating the Value of Design Workgroup
Lead: Tyra von Zweigbergk (Sweden)
This truly broad topic has engendered a lively online discussion and the varied nature of the many audiences that design needs to be better communicated to, has been identified throughout the discussion. It was agreed that one thing lacking in getting the message across to these disparate audiences is evidence—be it through the measuring of design's value using metrics, or accumulating case studies to highlight instances where design has fundamentally affected the outcome of a particular project. It is important to note that such efforts must be directed to design practitioners as well as users.The scheduled meetings in Gwangju will be a starting point for focusing on the development of the Platforms and communication and educational tools and materials. The Platforms will be crucial in clarifying the ico-D Agenda gearing up for the World Design Summit in Montréal in 2017.
President-Elect 2015-2017, International Council of Design
( Photo: The newly minted Executive Board of International Council of Design 2015 – 2017. From left to right: Wang Ziyuan (China), Heidrun Mumper-drumm (USA), Antoine Abi Aad (Lebanon), Peter Florentzos (Australia), David Grossman (Israel), Tyra von Zweigbergk (Sweden), Zachary Haris Ong (Malaysia), Iva Babaja (Croatia), Cihangir Istek (Turkey), Rebecca Wright (UK) (not in picture). Photo by Idzwan Junaidi )
**PRESS RELEASE**
MALAYSIA'S FIRST PRESIDENT ELECT FOR WORLD BODY OF DESIGN
GWANGJU, Oct 23: Malaysia's graphic design practitioner Zachary Haris Ong, was unanimously voted today as President-elect of the International Council of Design (ico-D) during the 26th ico-D General Assembly in this South Korean city.
Zachary who is the president of the Graphic Design Association of Malaysia (wREGA) will succeed David Grossman of Israel when his current term ends in 2017. He is not only the first Malaysian, but also ASEAN's first ico-D President-elect. Zachary's selection as President-elect marks the recognition of Malaysian talents by the international design community.
The International Council of Design (ico-D) is a member-based world body comprised of design professionals, design academicians and design experts from around the world. They are active vindicators of design excellence as a medium of change for social, cultural and economic movement.
Malaysian delegates to the assembly consist of Gan Aaron (Honorary Secretary), Arez Ezman (Committee Member), and Vishal J.Singh (Associate Member) from wREGA.
As president of wREGA, Zachary has proven his position as an active beacon in the design industry on a national scale through series of actions; most notably the call for a new Merdeka logo in 2012, spearheaded the Rediscovery: Icograda Design Week in Sarawak and implemented the Code of Professional Conduct for graphic design practitioners.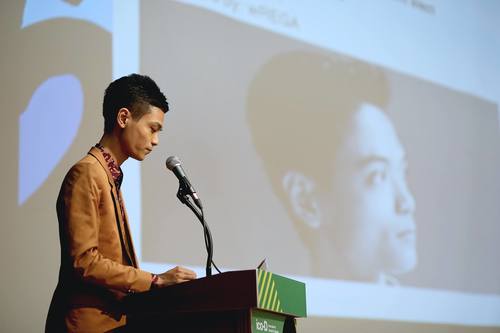 ico-D President Elect candidate, Zachary Haris Ong delivering his proposition to the delegates at the 26th General Assembly in Gwangju, South Korea. Photo by Idzwan Junaidi
( Photo: wREGA Malaysia delegates with ico-D's newly appointed President Elect, Zachary Haris Ong. From left to right: Arez Ezman (wREGA Committee), Gan Aaron (wREGA Honorary Secretary), Zachary Haris Ong (wREGA President), Zarul Nazli Zulkhurnain, Vishal J. Singh (wREGA Associate Member). Photo by Idzwan Junaidi )
"I am honoured to be elected as President-elect and to represent Malaysia on a global stage. With my appointment, I am committed to spark the next real evolution of design, that is to enable world governments to participate and profit from the power of design to further bettering quality of life for all."
With his position in ico-D, Zachary is committed to lead and co-develop a robust and sophisticated resource on communicating the value of design, national design policy, accreditation and certification in enabling design economies for the world.wREGA will participate in this year's Malaysian Design Festival (MaDe 2015) in December as one of the 6 design-related associations where Zachary will be present as a panel member.
Meanwhile, David, President of ico-D said "We're very pleased that Zachary is going to join us on board and serve as President Elect. We know that he has a proven record in his home country for promoting and developing awareness of design and he's already been active in our activities. I'm sure he's going to make a very important contribution to our work internationally and we also hope to be an opportunity to get to be more involved in the Malaysian design industry and maybe with some good fortune we might be making a visit and learn more about Malaysia".
Written by the Graphic Design Association of Malaysia, wREGA
For the official announcement by International Council of Design, click HERE.
Launch of the first Malaysia Design Festival (MaDE)
( Photo:Official launch of the inaugural Malaysia Design Festival 2014 on 27 September 2014 officiated by Prof. Dato' Dr. Ahmad Haji Zainuddin, Chairman of Malaysia Design Council (MRM) with Ministry of Science, Technology and Innovation (MOSTI). Present for the launch were all participating design associations President Sufian Yahuza, Persatuan Pereka Perindustrian Malaysia (Pereka), President Zachary Haris Ong, Pertubuhan Wakaf Reka Grafik Malaysia (wREGA), Deputy President Ar. Mohd Zulhemlee An, Pertubuhan Arkitek Malaysia (PAM), President Assoc. Prof. LAr. Dr. Osman Mohd Tahir, Insititute of Landscape Architects (ILAM), and President Ar. Chris Yap Seng Chye, Malaysian Institute of Interior Design (MIID). Photo by Arez Ezman )
Zachary Haris Ong pioneered the coalition of design associations in Malaysia since 2011 which includes architecture, interior architecture, landscape architects, graphic design, industrial design and fashion design. Inspired by the current global state of design evolving to a multi-disciplinary approach, he requested participation from each association and led the first meeting at wREGA's secretariat office.
The Malaysia Design Council accepted full authority of the coalition which became official in March 2012 presided by the Chairman Prof. Dato' Dr. Ahmad Hj. Zainuddin.
On September 2014, the Malaysia Design Council and the Ministry of Science, Technology and Innovation, organised the first Malaysia Design Festival with the participation of design associations that focused on showcasing local design talents.
Launch of wREGA Code of Professional Conduct (CoPC)
(Photo: wREGA President Zachary Haris Ong leads Malaysian designers in swearing in of their Code of Professional Conduct, 3 September 2013, Kuala Lumpur, Malaysia. Photo by Idzwan Junaidi)
In September 2013, wREGA launched the Code of Professional Conduct officiated by the Chairman of Malaysia Design Council, Prof. Dato' Dr. Ahmad Hj. Zainuddin and David Berman (R.G.D., CGD, FGDC). The event is endorsed by the world body International Council of Design, ico-D.
Read Zachary's interview with David Berman (R.G.D., CGD, FGDC) here.
WINNER – Top 40 Under 40, Prestige Magazine
( Photo: Zachary Haris Ong receiving the award with other movers and shakers of various industries. Photo by Zarul Nazli Zulkhurnain )
In 2012 Zachary Haris Ong is awarded the Young Achiever Award for Prestige Magazine's Top 40 Movers and Shakers of Malaysia Under 40 for his work in transforming the design industry of Malaysia.
Prestige's Top 40 Under 40 unveils the country's young breed of movers and shakers. For these 40 individuals, age is just a number that brings no hindrance to achieving great success. Every year, Prestige searches for 40 young men and women who are leaders in their fields and have proven that all it takes to scale new heights is a bold and brave approach to life and its challenges.
'The State of Design in Malaysia' Dossier, Graphic Design Association of Malaysia (wREGA)
The by-invitation roundtable discussion was chaired by Prof. Helmut Lueckenhausen and attended by board members of the International Council of Design (ico-D), Indigo Ambassadors, business and design educators, design associations and the executive committee members of wREGA. It is a discourse on issues preventing Design from being a key contributor to a nation's overall growth, and what could be the solutions to these problems – skewed towards the context of the Malaysian landscape. The intention of this discourse is to gain insight from ico-D in empowering the Malaysian design industry with the professional teamwork from wREGA to create a dossier to the Prime Minister of Malaysia on the importance of Design for the country.
Photographed by:
Zarul Nazli Zulkhurnain, Harith Riza Rasid
Designed by:
Zarul Nazli Zulkhurnain
Authors:
Zachary Haris Ong (M.wREGA), Ng Foong Wai (A.wREGA)
Research:
Dr. Debbie Gan (M.wREGA), Irina Muis (M.wREGA)
Download the document here.
Leading Icograda Design Week 2012 Sarawak
( Photo: wREGA President Zachary Haris Ong, ICOGRADA Former President Russell Kennedy and honorable keynote presenters and speakers of the Design Week. Photo by Zarul Nazli Zulkhurnain )
From 15-21 October 2012, ICOGRADA and the Graphic Design Association of Malaysia (wREGA), hosted Rediscovery 2012.
Icograda Design Week in Sarawak 2012 provided a platform to share, collaborate and be inspired among local and international designers in an atmosphere steeped in Sarawak's indigenous cultures and traditions. The venue, the Kuching Old Courthouse, a 165 year-old heritage building, is located in the city of Kuching, Sarawak. As the largest state in Malaysia, Sarawak holds a rich history and sees significant cultural convergence. For all that is modern, technologically advanced and as developed as any regular metropolis, Kuching – the capital city of Sarawak – is equally rich in the arts and boasts artists of international caliber.
ABOUT THE THEME
The theme for the 2012 ICOGRADA Design Week in Sarawak is 'Rediscovery'. Rediscovery is a celebration of indigenous design and will highlight the relevance of local culture in a globalised world. It invited participants to survey creative practices of local indigenous people and provide a context to re-think the future of design in relationship to cultural assets. It will also aim to demystify the magic of Borneo for local and international designers.
OBJECTIVES
Through Rediscovery's diverse programming, we shared case studies that reflect the integration of design strategies into the development of sustainable practices and social innovation in the craft industries. We showcased the many ways in which design and visual communication can help the growth of creative and sustainable tourism, and also explore the notion of cultural diversity within indigenous design.
ABOUT ICO-D (formerly known as ICOGRADA)
Leading Creatively
ico-D is a non-profit, non-partisan, member-based network that leads creatively by facilitating dialogue between design platforms including professional, educational and promotional categories.
Our vision, mission and core values are manifested through ico-D initiatives carried out in collaboration with our Members, who makeup an expert, multidisciplinary network of organizations, designers and stakeholders.
Members of ico-D have current perspective on contemporary contexts, and an eye for collaboration across disciplines and with diverse global and local communities. As an interface between the community of professional designers and the wider public, ico-D promotes design excellence, and upholds the importance of design as a key medium for social change.